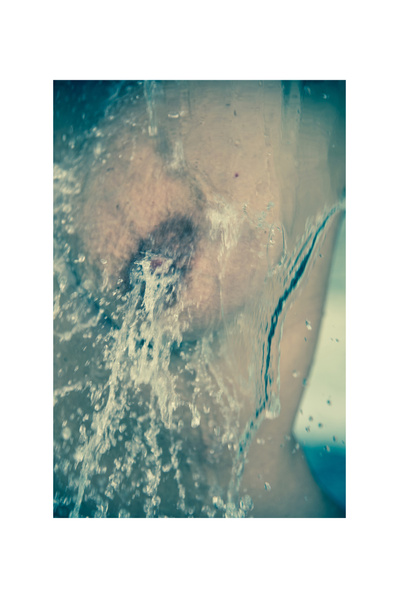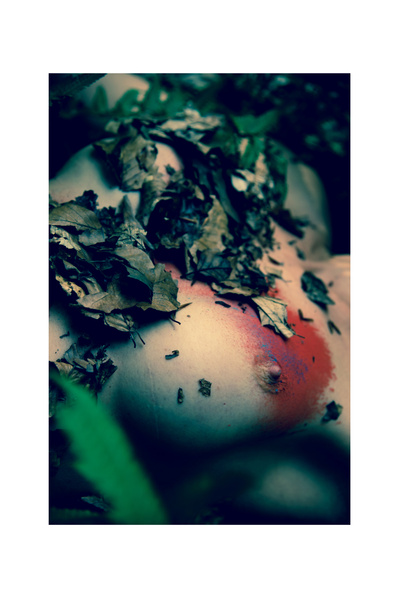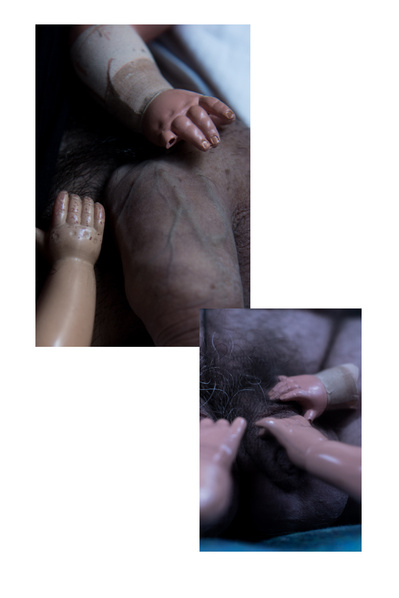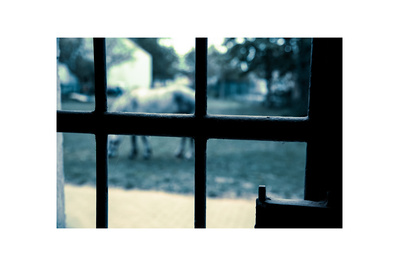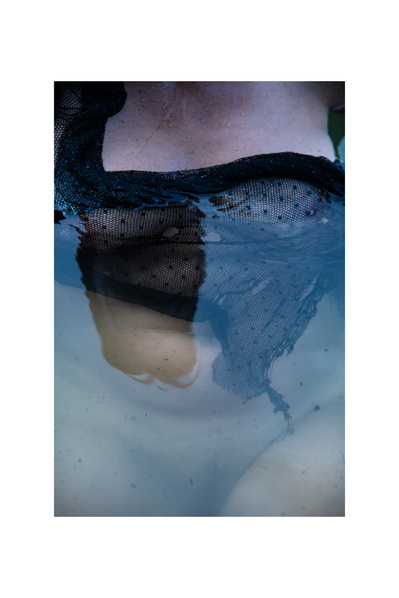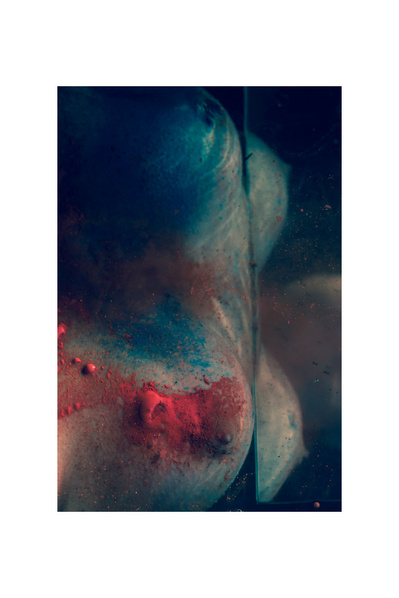 Wiederkehrende, nachhallende, assoziative Bilder umkreisen die sich aufdrängende Frage: Was bedeutet es Frau zu werden? Sie konfrontieren den Betrachter mit einer moralisch falschen Sexualität, verführen ihn - Mythologisches anklingend - und leiten dazu an, die hinter und vor der Kamera sich äußernden melancholischen sowie ganz stillen Empfindungen zu teilen. Der ständige Drang Stärke zu zeigen, das Wehren gegen alle Gefühle, gegen Beziehungen, die Flucht in die Einsamkeit und das Übernehmen von Schuld der Anderen gehen mit den Erfahrungen und Verletzungen eines sexuellen Missbrauchs in der Jugend/Kindheit einher. Verschobene Bilder entstehen, von dem was es heißt, vom Mädchen zur Frau zu werden, dem Körper und der eigenen Weiblichkeit beraubt. Die Fotografien der Serie "Echorauschen" greifen dies auf und erzählen malerisch-surreal die Geschichte einer Metamorphose, bei der die Nymphe Echo in die vier Elemente Feuer, Wasser, Erde, Luft einsteigt, um sich zu zeigen. Das Rauschen erinnert die Erfahrung des Missbrauchs in Erinnerungssequenzen. Die fotografischen Metaphern und ihr Echo werden aber zugleich zu einer Liebeserklärung an die Weiblichkeit. Allen Bildern ist eines gleich, offen, provokativ und sexuell konnotiert ziehen sie den Betrachter in die innere, subjektive Welt der Künstlerin. Sie sind Zeugnis eines Mutes, die Dinge zu benennen und einem scheinheiligen Tabu mit zuweilen frechem Exhibitionismus entgegenzutreten. Es sind Sinnbilder, geisterhafte Werke: "Du musst gucken, aber darfst nicht anfassen!". "Bitte nicht anfassen" ist auch ein Gebot in Museen und Galerien. Aus einem urweiblichen, künstlerischen Verständnis heraus wird die möglich-unmögliche Verwandlung vollzogen, erotisch-geheimnisvoll, kraftvoll-sinnlich in Szene gesetzt und letztlich Echo einen fraulichen Körper gebend.
Recurring, echoing images revolve around the question that arises: What does it mean to become a woman? They confront the viewer with a morally false sexuality, seduce him and lead him to share the silent feelings behind and in front of the camera. The constant urge to show strength, to defend oneself against all feelings, relationships, to escape into loneliness and to take over the guilt of others goes hand in hand with the experiences and injuries of sexual abuse in youth/childhood. Shifted images emerge from what it means to become a woman from a girl - to discover and understand one's own femininity.
The photographs of the series "Echorauschen" document this path. The pictures make use of a metaphorical/associative and mythological language and range from abstract/nebulous to clearly sexually connoted. All pictures have one thing in common - whether woman, man or landscape and animal - they openly and provocatively draw the viewer into the inner world of the photographer. They are testimony to a courage to name things and to confront a hypocritical taboo with an exhibitionist message; but just to look and not touch. "Please don't touch" is a basic rule in museums and galleries.
"Echorauschen" tells a story of metamorphoses. The four elements fire, water, earth, air are used in different variations to get into the noise and the echo. The noise is the memory of sexual abuse. The echo becomes a declaration of love to femininity.
Every form of art is referred to echo, to what is given, or to what in turn echoes from art and cultural history. It absorbs, interprets, processes, changes. Echo is one of the most prominent girlish nymphs in ancient Greek literature. It is a metamorphosis from a humiliated, searching girl to a strong, self-confident woman. The photographs themselves undergo the metamorphoses and become a "You have to look, but you mustn't touch". They are photographs of ghostly personifications of natural phenomena and they sing, dance, make music just like the nymphs from ancient Greek legends. The experiences and metamorphoses are presented out of a primeval female understanding, erotically - mysteriously, mythically - powerfully, curiously staged and finally Echo gets her female body back.