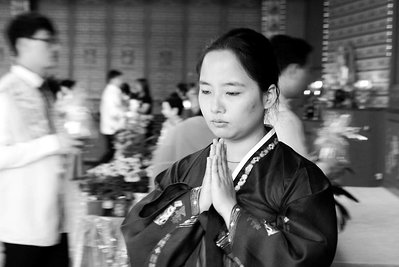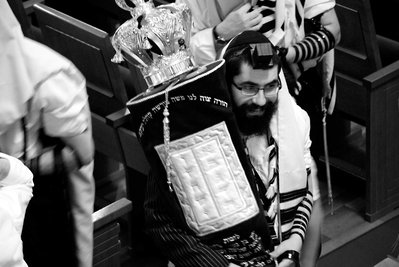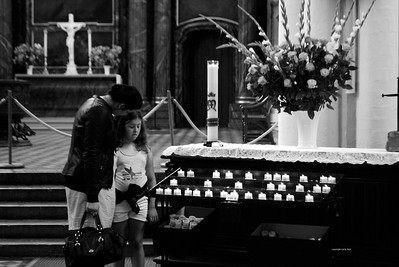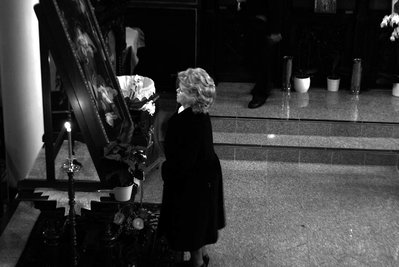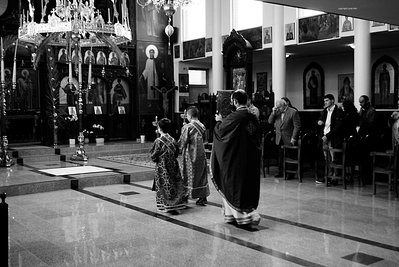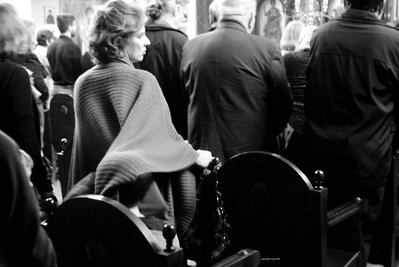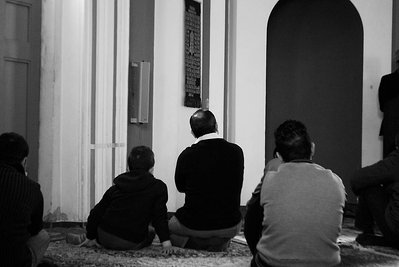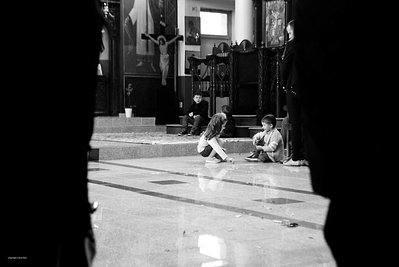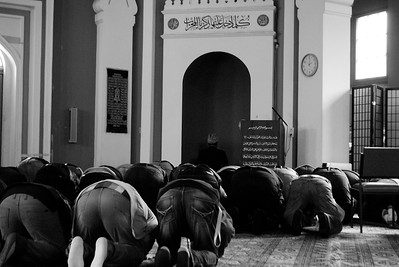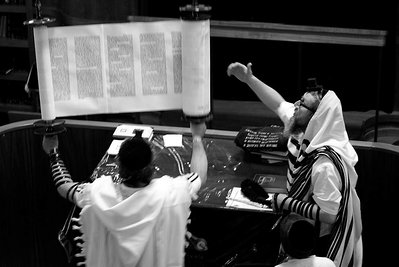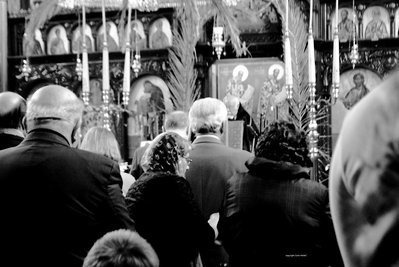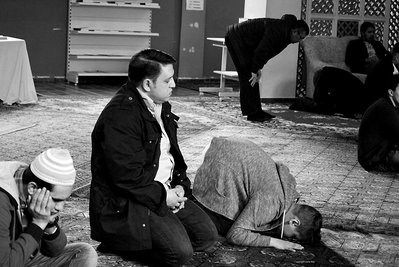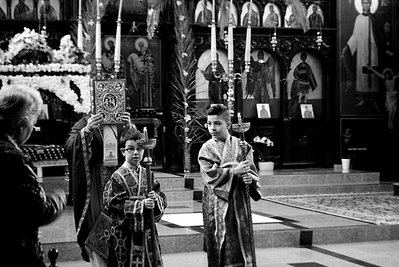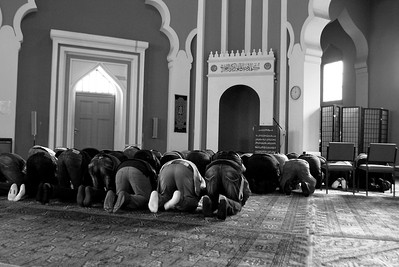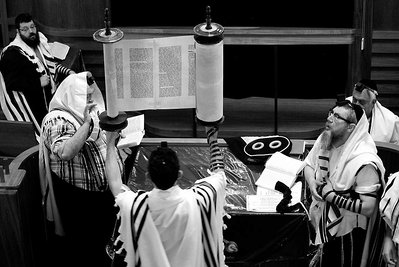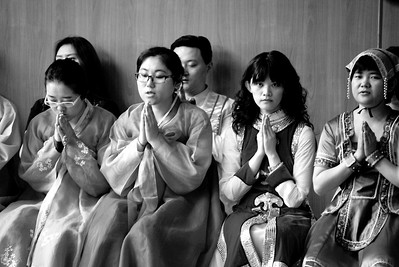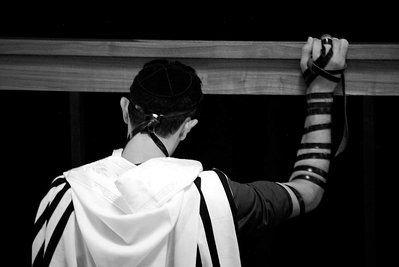 Die Künstlerin präsentiert die Serie Deo et homines... als Antwort auf den erstarkenden deutschen Nationalismus, sowie Islamophobie und Antisemitismus.. Sie erkundet dabei Gemeinsamkeiten und Unterschiede von drei monotheistischen Religionen in Berlin.
"Wie ist das mit dem Glauben? Mit der Religion? Welche wähle ich bloß? Muß ich wählen? Die unterschiedlichen monotheistischen Religionen ähneln sich stark in ihrer Ausübung. Alle werfen sich nieder, verbeugen sich und nicht zu vergessen, preisen ihren einzigen "wahren" Gott – egal wie er genannt wird: GOTT"/Adonai/ JHWH. Fragt man mich nach meiner Religion, antworte ich ganz klar: weiß ich nicht, hab ich nicht. Bin ich gläubig? Sicher, irgendwie schon.
Die Kirchen, Synagogen und Moscheen sind wie Theaterbühnen auf denen Rituale aufgeführt werden – mal pompöser, mal schlichter. Der Mensch, so scheint es mir, braucht diese Bühne – braucht einen Weg sich mit dem Leben auseinanderzusetzen. Blick nach oben zu "Gott" gerichtet, Blick demütig nach unten, Verbeugung… Ist das nun ein Christ, ein Muslim, ein Jude oder vielleicht ein Buddhist? Ich als, sagen wir mal, atheistisch erzogener Mensch, schaue auch zum Himmel, wenn ich Fragen habe und auch demütig nach unten, wenn ich mich auf mich konzentriere. Nur das Verbeugen bleibt weg. Fehlt es mir da an der Demut? Vor Gott, vor dem Leben?
In meinem Fotoprojekt "Deo et homines..." suche ich nach den Gemeinsamkeiten und den Unterschieden innerhalb der drei monotheistischen Religionen. Was ich dabei finde ist ein stark inszeniertes Schauspiel der Prediger. Was allerdings genauso zu finden ist, ist ein in den einzelnen Menschen tief sitzender Glaube an – ja, an was?"
Carla Pohl, 2017
The artist presents the series Deo et homines... as an answer to rising German nationalism as well as Islamophobia and antisemitic tendencies in our society. She explores similarities and differences of the three monotheistic religions in Berlin, Germany.
"What about faith and religion? How do I choose? Do I have to make a choice? The different monotheistic religions are actually quite akin to each other in their practises. In all of them people throw themselves onto the ground, bend forward and – don't forget – praise their one "true" god – no matter if called The Lord / Adonai / YHWH. When people ask me about my own religion, I respond unequivocally: Don't know, don't have one. Do I believe? Sure, somehow.
Churches, synagogues and mosques are like stages in a theatre, where rituals are being performed – sometimes more grandiose, sometimes rather modest. Humans, it seems, need this scene; need it as a way to deal with their lives. Looking upwards and facing "god", gazing down in lowliness, bowing… Is this person a Christian, Muslim, Jew or possibly a Buddhist? I, as a lets say atheistically brought up and educated human being, also look at the sky when I have questions and I too humbly face the ground when I concentrate. The only thing missing: the bow. Am I not humble enough before god or live?
Through this photography project I am seeking the similarities and differences between three monotheistic religions within one city. What I find are the preachers' highly enacted spectacles. Yet, I also come across individual human beings with a deeply rooted faith in – well, in something?"
Carla Pohl, 2017